NEXT YEAR IS GOING TO BE BIG!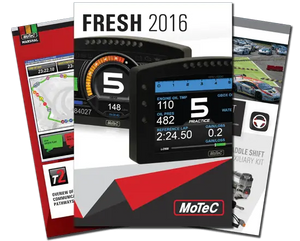 2015 has been a great year for MoTeC with so many customers achieving amazing feats with our M1 engine management systems, from applying our "off the shelf" ECU Packages to customising their own specialised firmware. We are thrilled to see the industry loving what the M1 platform has to offer. It's a game changer!
Our Colour Displays and Display Loggers have also been flying out the door, making an impact in all sorts of vehicles around the world. Whether they are installed for their superior display performance and stunning colour, their ability to be completely customised using our exclusive Display Creator software, or for their powerful data logging and control capabilities, our 5 inch and 7 inch variants are in high demand. And things on the display front are about to get bigger. Much BIGGER!
So, what's fresh for 2016? It's time to get excited about the possibilities...download the brochure and take a look.
2016 Motec What's New Brochure